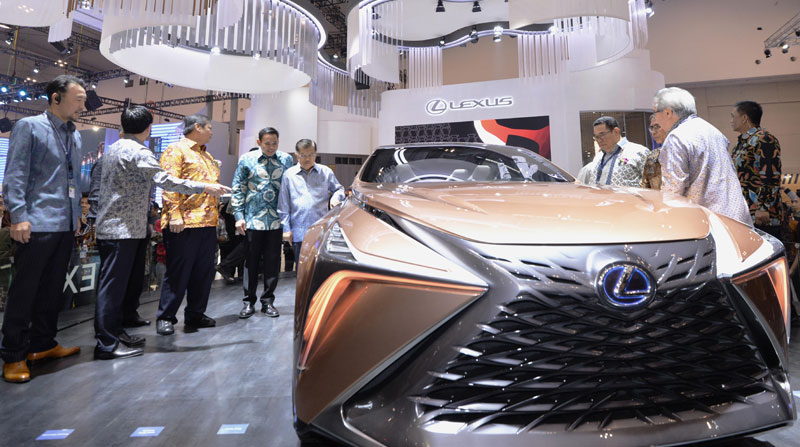 18 Jul 2019
Indonesia
Sajikan "Experience Amazing" Kepada Dunia Luxury Lifestyle dan Otomotif, Lexus Hadirkan Tema "Harmoniously Lavish" di GIIAS 2019
JAKARTA--- Melanjutkan kesuksesan di tahun sebelumnya, Lexus kembali berpartisipasi di Gaikindo Indonesia International Auto Show (GIIAS) untuk kelima kalinya. Mengambil filosofi Jepang "Wa" artinya harmoni, Lexus menghadirkan booth yang siap untuk memukau para pengunjung. Dimulai dari desain booth yang berani dan kian menakjubkan, konsep harmoni diterapkan dalam bentuk sebuah sajian harmoni musikal di Lexus Royal Kabuki Lounge, sebuah oase yang terdapat di tengah hiruk-pikuk GIIAS 2019 dan konsistensi Lexus selalu menghadirkan mobil konsep, yaitu The Lexus LF-1 Limitless Concept yang merupakan the future aspiration of Lexus Crossover SUV yang desain dan fiturnya siap berharmonisasi untuk mengantisipasi kebutuhan manusia di masa yang akan datang.
Adrian Tirtadjaja, General Manager Lexus Indonesia mengatakan, "Lexus senantiasa memberikan experience amazing untuk semua pengunjung GIIAS. Tahun ini bertema filosofi "Wa", we create lavish harmony untuk mencapai sinergi baik dari dalam diri kita, dengan komunitas dan juga dengan lingkungan sekitar. Ini juga selaras dengan filosofi Lexus Yet Philosophy, merupakan harmonisasi antara dua aspek yang bertolak belakang, yang diterapkan dalam desain produk dan pelayanan kami."
Dari segi produk, Lexus menghadirkan excitement beberapa varian terbaru Lexus yakni, Lexus SUV Premium LX 570 SPORT dan Lexus Luxury Medium Sedan ES 250. Lexus LX 570 SPORT yang merupakan varian dari SUV Premium LX line up, telah diluncurkan pada Januari 2019 dan disebut-sebut merupakan "kode rahasia" di kalangan elit Indonesia. Sementara itu, kehadiran sedan ES 250 melengkapi varian sedan Lexus ES line up yang telah diluncurkan pada GIIAS 2018 lalu. Pendahulunya, Lexus ES 300h telah mendapatkan respon yang sangat positif dari market Indonesia.
Dalam GIIAS 2019, Lexus menghadirkan penampilan spesial yang banyak ditunggu-tunggu dan setiap tahun selalu mendapat sambutan positif pecinta otomotif yaitu kehadiran Lexus Concept Car atau mobil konsep. Kali ini Lexus mempersembahkan special exhibit mobil konsep Lexus LF-1 Limitless Concept yang merupakan The Future Aspiration of Flagship Luxury Crossovers.
Lexus LF-1 Limitless Concept didesain dengan inspirasi craftsmanship pembuatan pedang samurai, Molten Katana yang menghasilkan guratan yang dinamis dan mengusung harmonisasi diantara teknologi dan human touch. Ide futuristik ini akhirnya menciptakan desain yang sangat agresif dan emosional.
"Lexus dengan bangga memperlihatkan the future of Lexus crossovers yang mengedepankan imaginative technology yakni, beyond autonomous driving, beyond artificial intelligence, dan beyond all limitations yang akan terus menginspirasi kreasi produk-produk Lexus kedepan" ujar Adrian Tirtadjaja.
Hadir dan nikmatilah experience amazing di booth Lexus selama perhelatan GIIAS 2019, tanggal 18-28 Juli 2019 di Hall 3A, Indonesia Convention Exhibition (ICE), BSD, Tangerang.