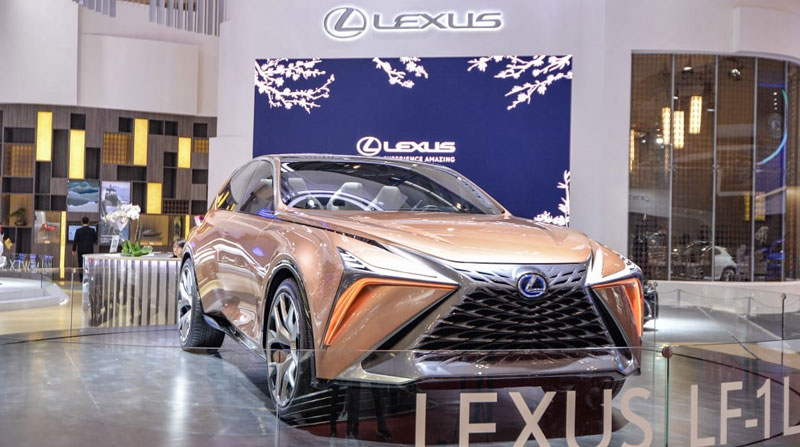 22 Jul 2019
Indonesia
Pertama Di Asia Tenggara, Lexus Indonesia Menampilkan Masa Depan Lexus, Mobil Konsep Lexus LF-1 Limitless Concept di GIIAS 2019
JAKARTA— Desain dan teknologi mutakhir tentunya tidak terjadi begitu saja. Dibutuhkan banyak waktu dan usaha untuk menghasilkan mahakarya seperti mobil Lexus. Dalam GIIAS 2019, Lexus menghadirkan penampilan spesial yang banyak ditunggu-tunggu dan setiap tahun selalu mendapat sambutan positif pecinta otomotif yaitu kehadiran Lexus Concept Car. Kali ini Lexus mempersembahkan special exhibit mobil konsep Lexus LF-1 Limitless Concept yang merupakan The Future Aspiration of Flagship Luxury Crossovers.
The Lexus LF-1 Limitless Concept memamerkan karya teknologi, inovasi dan evolusi desain Lexus flagship SUV masa depan yang didefinisikan sebagai beyond autonomous driving, beyond artificial intelligence, dan beyond all limitations.
"Mobil konsep Lexus LF-1 Limitless Concept diciptakan berlandaskan harmonisasi antara autonomous driving atau kendaraan yang dapat dikemudikan dengan operasi minimum manusia dengan menggunakan chauffeur mode dan human touch apabila pengemudi ingin merasakan driving experience ketika dikemudikan oleh manusia," menurut General Manager Lexus Indonesia Adrian Tirtadjaja.
Di desain dan diproduksi oleh CALTY Design Research di California, Amerika Serikat, Lexus LF-1 Limitless Concept memiliki perpaduan desain angular dan organic. Terinspirasi dari craftsmanship proses pembuatan tempaan pedang samurai, Molten Katana, tampilan Lexus LF-1 Limitless Concept terlihat seperti lelehan besi yang mengalir dinamis, menghasilkan guratan yang edgy dan futuristik.
Eksterior Lexus LF-1 Limitless Concept didesain dengan Lexus signature spindle grille yang menerapkan 3-D movement. Grille tersebut terintegrasi dengan bumper depan, kap mesin, lampu dan fender. Selain itu, terdapat Panoramic Glass Roof yang memperkuat konsep "limitless" dengan adanya atap kaca yang berlanjut dari depan ke belakang. Agar tidak mengganggu pandangan pengemudi ke belakang, Lexus LF-1 Limitless Concept dilengkapi dengan Split Rear Spoiler untuk jangkauan visibilitas yang maksimal.
Interior Lexus LF-1 Limitless Concept di desain untuk menjadi oase untuk pengemudi dan penumpangnya dengan mengutamakan omotenashi dan kenyamanan. Dengan konfigurasi 2+2, Kokpit Lexus LF-1 Limitless Concept dirancang untuk membuat pengemudi berkonsentrasi dengan menggantikan semua tombol analog dengan motion sensors. Bagian pintu dan langit-langit dipercantik dengan fiber optic LED lighting yang layaknya taburan bintang di langit.
Lexus LF-1 Limitless Concept mengusung teknologi imajinatif yang akan terus disempurnakan di masa mendatang seperti opsi variasi sistem gerak berbahan bakar fuel cell, hybrid, plug-in hybrid, bensin dan listrik. Keseluruhan konsep eksterior, interior maupun teknologi Lexus LF-1 Limitless Concept berpotensi membentuk masa depan crossover mewah produk-produk Lexus.
Di Booth Lexus Indonesia di ajang GIIAS 2019, LF-1 Limitless Concept tampil sebagai primadona. Kehadiran LF-1 Limitless akan memberi Experience Amazing pertama kalinya di Asia Tenggara bagi pengunjung booth Lexus. Datang dan nikmati kesempatan ini di Lexus booth, GIIAS 2019, Hall 3A, ICE, BSD City, Tangerang pada tanggal 18-28 Juli 2019.