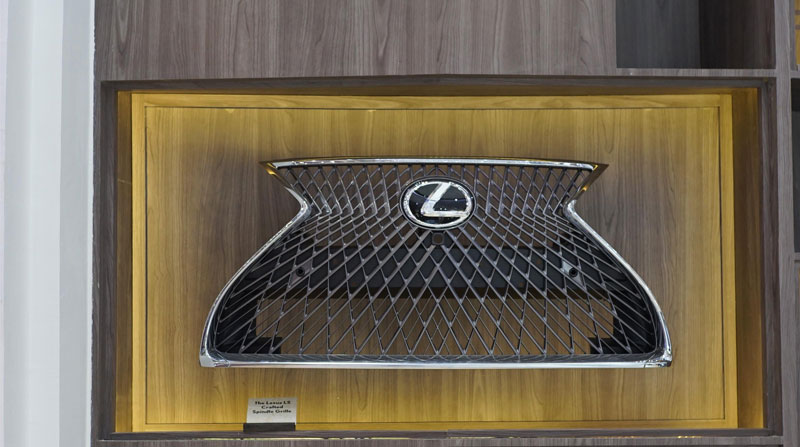 20 Jul 2019
Indonesia
Lexus Takumi, Keahlian Seniman Dibalik Mahakarya Lexus
JAKARTA--- Sebagai kendaraan luxury, Lexus sangat mengunggulkan kualitas, baik dari segi produk, layanan dan brand experience. Setiap aspek dibuat dengan ketelitian, sehingga menghasilkan produk yang sempurna dan pengalaman yang luar biasa.
Produk Lexus merupakan mahakarya dari setiap Lexus Takumi. Konsep 'Takumi' sangat penting bagi Lexus. Takumi adalah filosofi artisan yang menerapkan human touch untuk setiap aspek desain dan pengembangan Lexus.
Takumi Craftsmen memiliki perhatian sangat teliti pada detail. Mereka memiliki keyakinan dan semangat untuk mencapai titik keunggulan yang tak tertandingi dan mereka tidak berhenti untuk mencapainya. Masing-masing Takumi memiliki setidaknya 60,000 jam pengalaman di bidangnya yang difokuskan pada elemen tertentu dari proses pembuatan mobil. Di antara 7.700 pekerja di Pabrik Lexus Miyata di Kyushu, hanya ada 19 Takumi.
Takumi sangat berpengalaman dalam teknologi yang paling mutakhir, dan memiliki peran utama dalam menciptakannya. Namun, banyak dari keterampilan mereka yang paling terkenal sangat mendahului era digital.
Rasa sentuhan Takumi yang sensitif itu legendaris. Tangan mereka adalah alat mereka yang paling berharga. Mengenakan sarung tangan putih, mereka menggunakan sensitivitas tinggi mereka untuk merasakan ketidaksempurnaan dan kesalahan kecil, dengan demikian, sang Takumi menjamin kualitas paling tinggi.
Dalam menciptakan setiap mobil Lexus, takumi berpegang pada prinsip "L-Finesse" filosofi pengembangan desain Lexus. Salah satu cara unik melakukan seleksi Lexus Takumi adalah dengan tantangan 90 detik melipat dengan sangat rapi kertas origami berbentuk kucing dengan tangan yang tidak dominan.
Contoh craftsmanship Takumi terlihat langsung di semua jajaran produk Lexus. Grille Lexus LS yang terinspirasi dari pohon palem Indonesia membutuhkan enam bulan untuk di kalibrasi menggunakan komputer, stitching yang terdapat di Lexus ES pun dijahit dengan tangan dimana jarak diantara jahitan seragam. Lexus NX menggunakan exposed Lexus bolts di bagian konsol tengah yang terinspirasi Lexus LFA, dan dashboard Lexus UX memiliki tekstur bernama Washi yang dibuat secara unik untuk meniru butiran lembut kertas Jepang.
Lexus tidak hanya membuat mobil-mobil premium yang amazing. Dengan filisofi Takumi, Lexus juga merealisasikan produksi kapal pesiar mewah, Lexus LY 650. Bersama mitranya, Marquis-Larson Boat Group, Lexus akan memproduksi yacht perdananya dengan mengusung Lexus Sport Yacht Concept. Kapal pesiar ini akan memiliki panjang keseluruhan 65 kaki.
"Takumi Craftsmanship Lexus terus memperkuat tujuan kami untuk menjadi an aspirational brand for the luxury automotive and lifestyle industry." ujar General Manager Lexus Indonesia, Adrian Tirtadjaja.
Dengan mengunjungi Booth Lexus di GIIAS 2019, pengunjung akan memperoleh gambaran craftsmanship Lexus baik melalui produk-produknya, Lexus Brand Gallery dan juga kreasi Lexus Kabuki Lounge. Kemegahan budaya Indonesia yang memiliki nilai seni bercita rasa tinggi juga mewarnai Lexus Brand Gallery, memiliki value yang selaras dengan Lexus craftsmanship.
"Lexus Indonesia mengapresiasi budaya dan craftsmanship untuk menciptakan sebuah masterpiece, layaknya produk-produk Lexus. Dan Indonesia yang kaya akan budaya memberikan karakter tersendiri bagi image maupun pelayanan Lexus di Indonesia." ujar Adrian.
Kunjungi booth Lexus di acara Gaikindo Indonesia International Auto Show (GIIAS) 2019, di Hall 3A, ICE, BSD untuk sebuah luxury experience yang tak bisa ditemukan di pameran otomotif manapun.