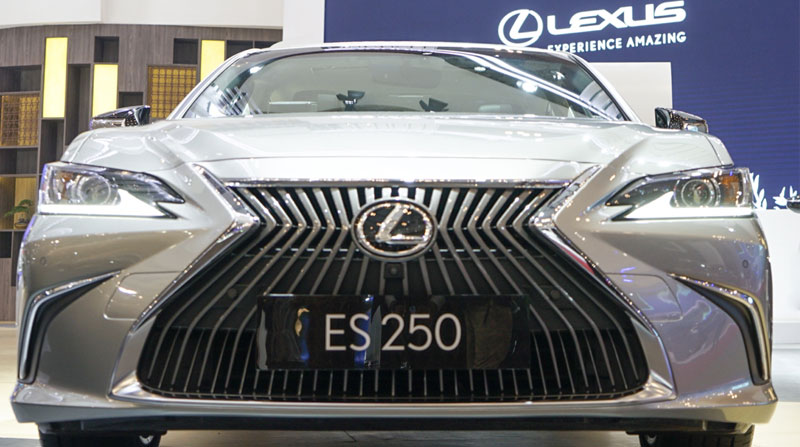 19 Jul 2019
Indonesia
Variasi Sedan Lexus di Indonesia Makin Dilengkapi Dengan Hadirnya The New Lexus ES 250
JAKARTA – Pertama kali diluncurkan di tahun 1989, Lexus memperkenalkan Lexus LS 400 dan Lexus ES 250 ke dunia otomotif. Kini, Lexus LS dan ES menjadi simbol status untuk kaum elit di Indonesia dan terus menjadi ikon teknologi dan kemewahan yang tak tertandingi.
Setelah diluncurkannya Lexus LS 500 pada tahun 2017 yang mendebarkan, Lexus Indonesia kembali mengejutkan penggemar otomotif tanah air dengan peluncuran Lexus ES 300h generasi ke-6 tahun lalu. Dilengkapi dengan fitur 4th Generation Lexus Hybrid Drive, Lexus ES 300h mendapatkan sambutan yang sangat positif dari market.
Untuk memperkuat line up Lexus ES, Lexus Indonesia melengkapi pilihan untuk para pelanggannya dengan meluncurkan varian terbaru, The New Lexus ES 250. Varian terbaru seri Lexus ES, dibekali mesin bensin 2,500cc konvensional yang dapat menghasilkan 204 horsepower dan torsi 243Nm.
Sebagai sedan yang mengusung desain Provocative Elegance, The New Lexus ES 250 tampil sporty, yet elegant. Ciri khas vertical spindle grille pertama Lexus sangat digemari dan di apresiasi terlihat outstanding, modern dan sophisticated. Ditambah dengan kenyamanan ruang kabin yang lega, kesempurnaan craftsmanship khas Lexus, dan kemewahan omotenashi fitur-fiturnya tetap menjadi komitmen Lexus ES.
"Kami sangat berterima kasih kepada seluruh Lexus Enthusiasts yang telah memberi respon yang positif untuk The New Lexus ES sehingga, antrian untuk Lexus ES sangat panjang. Karena sambutan yang sangat baik Lexus ES saat ini menjadi tipe sedan terlaris dari Lexus dan kami ingin memperkuat keberadaan Lexus ES dengan Lexus ES 250, varian terbaru Lexus ES lineup." kata Adrian Tirtadjaja, General Manager Lexus Indonesia
Menurut Adrian, semua yang dihadirkan oleh Lexus ES merupakan tranformasi dari prinsip Experience Amazing, yakni mengubah Function into Emotion, Performance into Passion, dan Technology into Imagination. Pengendara Lexus ES akan merasakan emotional attachment dan transformasi excitement berkendara yang unik.
New Lexus ES 250 tetap memiliki fitur-fitur yang sangat digemari oleh pelanggan Lexus dan Lexus Sedan Enthusiasts di Indonesia. Fitur seperti Automatic Trunk with Kick Sensor, 12.3-inch wide Center Screen Display with a 17-Speaker Mark Levinson Pure Play Audio System, dan Electric Reclining Rear Seats dengan ruang kaki terbesar di kelasnya tentunya akan memberikan kenyamanan dan kemewahan untuk penggunanya.
Adrian mengatakan, kehadiran The New Lexus ES 250 ini juga menjadi milestone untuk lebih memperkuat eksistensi Lexus di dunia otomotif dan lifestyle.
"Sedan The New Lexus ES 250 adalah pilihan yang sangat kompetitif di pasar mobil mewah Indonesia sebagai brand sophisticated luxury. Ditambah lagi dengan kemudahan dan privileges khas Lexus Indonesia." ujar Adrian Tirtadjaja.