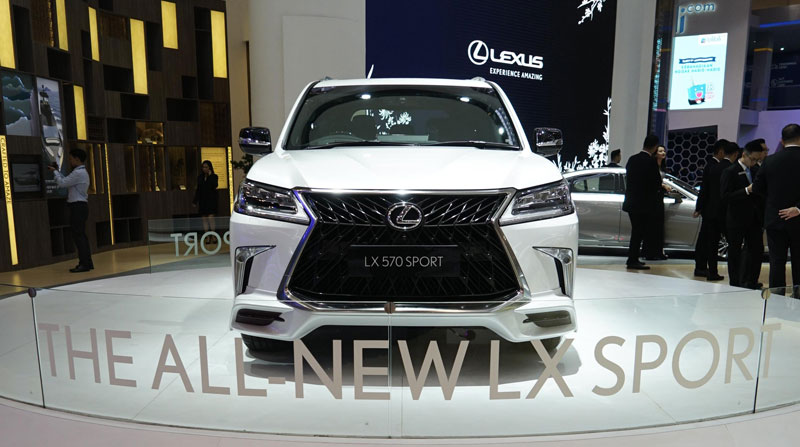 25 Jul 2019
Indonesia
Jajaran Lexus SUV Favorit Premium Market Indonesia
JAKARTA---Lexus Indonesia selama 12 tahun terakhir selalu menghadirkan mobil-mobil SUV premium yang selalu menjadi idaman market premium. Produk Lexus SUV lineup hadir dalam semua segmen dengan mengedepankan brave design, kemewahan kualitas craftsmanship Lexus Takumi yang menciptakan kenyamanan dalam berkendara.
Di ajang GIIAS 2019, BSD, Tangerang, tanggal 18-28 Juli, Anda dapat meng-explore dengan lengkap produk Lexus SUV premium di booth Lexus Indonesia, termasuk line up terbaru SUV Lexus, LX 570 SPORT.
"Salah satu komitmen Lexus ialah menyediakan kendaraan premium yang sesuai kebutuhan pelanggan. Kami mengerti bahwa tren mobil mewah shifting ke arah mobil yang dinamis dan aktif untuk segala medan. Sehingga, kendaraan premium SUV Lexus yang stylish, yet comfortable sangat dinanti oleh customer kami," ujar General Manager Lexus Indonesia, Adrian Tirtadjaja.
Saat ini, line up Lexus SUV premium semakin beragam dan lengkap. Mulai dari Lexus LX untuk kelas flagship SUV premium termasuk pilihan LX 570 SPORT, Lexus RX sang pencetus luxury crossover SUV di dunia, Lexus NX dan Lexus UX, yang merupakan urban crossover pertama dari Lexus.
Menurut Adrian Tirtadjaja, semakin baiknya pangsa pasar Lexus dalam segmen pasar kendaraan crossover SUV premium, antara lain karena adanya pergeseran pasar otomotif di Indonesia yang mulai beralih dari sedan ke SUV. Tren pasar tersebut didukung karena meningkatnya kualitas produk-produk SUV premium yang memiliki kenyamanan dan kemewahan seperti sedan. Kelebihan lain, SUV dapat mengakomodir kebutuhan berkendara di ruas jalan yang tidak mulus.
"Setiap Luxury SUV yang digunakan oleh pelanggan menjadi extension of their personality dan kian menunjang lifestyle mereka. Merupakan sebuah kebanggaan tersendiri untuk pelanggan kami menggunakan kendaraan Lexus dengan desain yang outstanding dan memiliki privileges yang unik. They are Proud to be Lexus." ujar Adrian Tirtadjaja.
Flagship SUV Lexus, yakni Lexus LX mendapatkan tambahan varian di tahun 2019 dalam bentuk LX 570 SPORT yang mendapat desain terbaru Lexus Signature Sport Spindle Grille dan Sport Front Bumper. Lexus LX 570 SPORT dibekali dengan mesin 5,700cc V8 dan transmisi otomatis delapan percepatan. Dengan transmisi baru ini, pergantian gigi makin halus dan mencapai kecepatan tertinggi pun mudah dan tak terasa.
"Lexus LX memang sudah menjadi incaran khalayak elit di Indonesia. Kami yakin dengan LX 570 SPORT yang mengalami perubahan signifikan akan semakin memancarkan power and elegance para enthusiast nya dan memperkuat statusnya sebagai kode rahasia di kalangannya." tambah Adrian.
Sedangkan line up terbaru, Lexus UX yang diciptakan oleh Chief Engineer wanita pertama di jajaran eksekutif Lexus International untuk para urban society, yakni kaum muda dan wanita yang aktif dan memiliki lifestyle yang dinamis, yang menjadikan Lexus UX adalah menjadi urban companion yang tepat. Dengan performa yang agile yang dapat dengan mudah dikendarai di liku perkotaan.