THE LX SERIES
CRAFTED
TO COMMAND.
AN IMPRESSIVE FULL-SIZE LUXURY SUV WITH A DELUXE INTERIOR AND SEATING FOR EIGHT, THE LX IS BUILT FOR BOTH URBAN COMFORT AND OFF-ROAD RUGGEDNESS.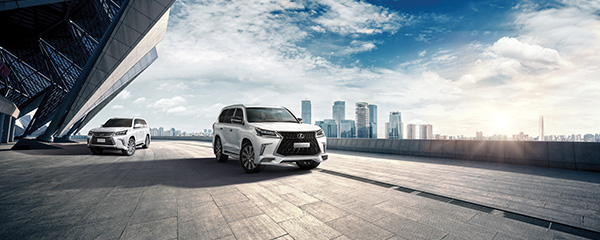 THE LX SERIES
CREATE A POWERFUL IMPRESSION.
The LX delivers driving performance with outstanding V8 power and a confidence-inspiring 4WD.
An advanced suspension system gives the LX series excellent ride quality in a variety of conditions.



Drive comfortably with a luxurious interior accommodating space for up to eight.
CRAFTED TO COMMAND

Make your mark with commanding presence worthy for an elite in the exceptional Lexus flagship SUV, The New Lexus 570 SPORT, a new breed of SUV is here, time to make the switch.

CREATIVE COMBINATIONS: SERGIO BARROSO AND LEXUS LX

Sergio Barroso travels from the coast to the hills in the LX while on a quest to find distinctive local produce and create unexpected, innovative dishes.
REVIEW

LX 570

"Underneath the LX 570's organically robust styling resides a rough-and-ready, body-on-frame truck platform designed for serious off-road duty."

— Edmunds.com
Choose your LX
7.7

SECONDS
0 - 100 km/h

210

MAX SPEED
km/h

362

HORSEPOWER

7.7

SECONDS
0 - 100 KM/H

210

KM/H
MAX SPEED

362

BRAKE
HORSEPOWER