THE GS SERIES
EXPECT EXHILARATION
WORTHY OF THE BOLD.
THE NEW GS SERIES IS AN ELEGANT PAIRING OF THRILLING PERFORMANCE AND A LUXURIOUS INTERIOR. NOW WITH A TURBO ENGINE AND A V8 OPTION, IT'S EVEN MORE AMAZING.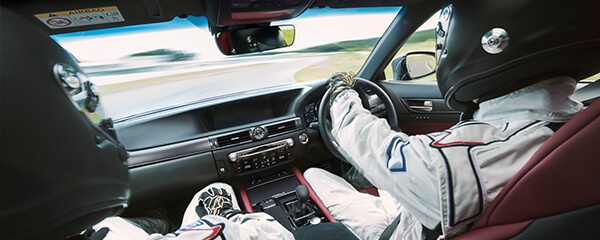 THE GS SERIES
FULL-BODIED LUXURY POWERED BY STYLE.
Experience an all-out performance with the GS F's 5.0-liter V8 powerplant.
The perfect companion for your mobility for those who seeks driving experience
TESTING PURE PERFORMANCE

Find out how the GS F supersedan performs on the asphalt bends of Arizona's Sonoran Desert.

A HARMONIOUS INTERIOR

Discover how the eco-friendly bamboo steering wheel and other touches create harmony and balance inside the GS
REVIEW

LEXUS GS F

"[The GS F] does exactly what Lexus says it should. While the Europeans are starting to feel a bit generic, the GS F has a style all its own."

— Autoweek.com
CHOOSE YOUR GS
4.6

SECONDS
0 - 100 km/h

270

MAX SPEED
KM/H

467

BRAKE
HORSEPOWER